10 Ways Life is Like a Box of Chocolates
Like life, a box of chocolates is typically given as a gift from someone who loves us.
"My Momma always said, 'Life is like a box of chocolates. You never know what you are going to get.'" — Forrest Gump
Forrest Gump came out in 1994, and like the rest of the cinema loving world, I knew it was special. I even purchased the loaded with folksy, 70's tunes soundtrack. I was twenty when I watched the bus stop bench scene with Forrest holding a box of chocolates, sharing his momma's wisdom. Momma Gump's words sounded like truth, but I had no depth of understanding. At that age, I couldn't grasp how life might be a like a box of chocolates. But now I get it. Let's not do the age math and just trust that I've lived enough years to better grasp the analogy.
Life is in fact like a box of chocolates.
No doubt life is an assortment of clusters, cordials, and truffles. Amen? When the sun rises each new day, the twenty-four hours that follow just might be nutty, fruity, fancy, simple, messy, sweet, or just not good at all. We can guess how it will go, but we don't really know until we've taken a taste and lived it.
I've relished some chocolate in my day, mostly of the semisweet variety. It comforts me in stressful times, pampers me on happy occasions, and has been a guilty pleasure for as long as I've had taste buds. On each Valentine's Day throughout my childhood, my dad gave my sister and I velvety, red heart boxes filled with an assortment of chocolates. Those boxes of Russell Stover's sweetness made our February fourteenths extra special each year. When we lifted off the heart-shaped lids, sniffed the candied scent, and peeked under the wax paper lining at the luscious chocolates resting organized in golden foil, we knew we were loved.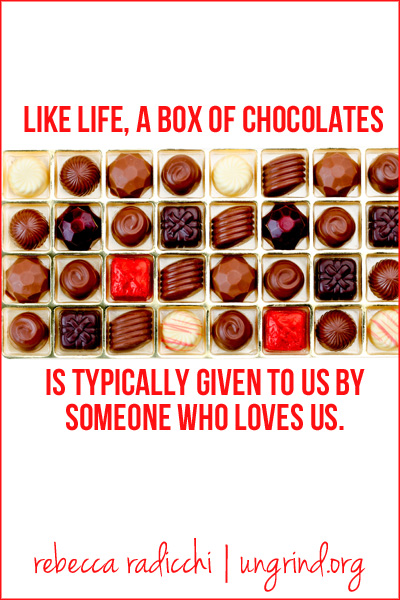 Like life, a box of chocolates is typically given as a gift from someone who loves us. And that box is like a banquet, like a visual of life's moments laid out before us, filled with individual gifts meant to be tasted and savored. Those yummy truffles derived from cocoa beans do in fact mirror our days.
If Forrest were to have asked his sage momma to elaborate, she might have advised…
1. We don't know what each piece contains, what each day will hold, but we know that the One who made them creates with great intention. Release your need to know, and trust the Maker.
2. Though gifted with many chocolates, and a lifetime of days, our number is limited still. See each as a luxurious gift.
3. Each delicious chocolate, each individual special moment, is meant to be savored. Slow yourself down and truly taste it. If you get too excited and focused on the full feast before you, you'll miss life's littlest gifts.
4. We want control over what candies are in our box, over the hand life deals us, but we can't have it. Release your grip and free yourself to enjoy the adventure.
5. Some of our chocolates, some of our circumstances, are a letdown. We expect to love every last morsel. We want every nibble to be perfect, but life is an assortment of the sweet, the bitter, and the in between. Remember, even in the let down, there is sweetness to be mined for.
6. When we share our chocolate, the experience is richer. So share. Share with someone in need, share with someone who's grumpy, or share with someone who really appreciates good chocolate.
7. We sometimes save our chocolates, and pampering gifts given, for a special day expecting that a more special moment will come, and we miss the gift. Don't. Accept the gift. Receive the love. Live the moment. Eat the chocolate.
8. Some pieces, some days, are just not good. It's not a taste we care to experience, but we must trust that it was placed in our box for a purpose.
9. Sometimes we are afraid to go for another piece. The last chocolate, or the last day, was not good, and we fear more disappointment. Never lose hope. Unexpected delights and sweetness reside right beside the not so great.
10. Sometimes you assume you won't like the unknown piece, or day, before you, but then you take a brave nibble and discover something new. Taste and try new things.
Momma Gump was a wise woman. Life is an unpredictable assortment of the good, bad and in between. For this reason, chocolate should always be close at hand. And even though we never know what we are going to get, I like our odds. After all, our Father loves us, and is intentional with His gifts.
"Oh, taste and see that the LORD is good." Psalm 34:8
Do you want to be inspired, motivated, and equipped to live the everyday story of your life well?
If so, you're in the right place. Whether you need encouragement in your relationships or in your faith, I hope you'll find the transparent voices of mentors and friends here at Ungrind.
So, grab a cup of coffee and keep reading. We're so glad you're here!
Ashleigh Slater, Founder & Managing Editor
"Real life is not always pleasant. Every marriage experiences disappointments, misunderstandings, sickness and financial crisis. Ashleigh doesn't camouflage the pain in her own marriage, and offers practical ideas on how to walk through the difficulties and find intimacy on the journey. If you are anything like me, I predict that as you read, you too will find yourself laughing, wiping tears, and saying 'Oh, yes.'"
-- Gary Chapman, #1 New York Times bestselling author of The 5 Love Languages
We are a member of the Amazon affiliate program and regularly use affiliate links. If you purchase an item from an Amazon link we provide, we will receive a small referral commission. This doesn't cost you anything additional. We only share books, music, and products that our writers personally have used and highly recommend.