William and Kate: Glimpses of a Marriage to Come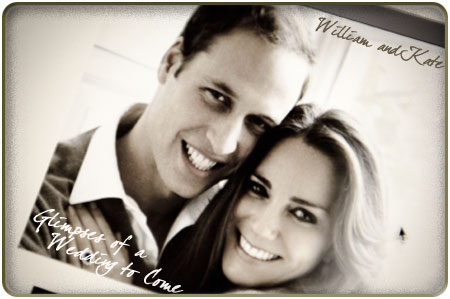 News wires reported that more than 2 billion people around the world were watching when Prince William and commoner Kate Middleton exchanged vows. A royal wedding between a king-to-be and the girl down-the-street. A fairy tale story come to life.
Included in those 2 billion were three of my daughters and myself. Up before dawn to watch this historic event. And unlike most weddings, the world was tuned in and watching with us.
As a Christian, I couldn't help but see some of the similarities between this royal wedding and the one to come, where Jesus returns for His Bride, the Church.
The Waiting
Before the lavish wedding and celebrating in the streets of England, Kate was publicly mocked in the media because she waited for Prince William to marry her. She was ridiculed and called "Waity Katy." Most thought her commoner hopes of a marriage to a prince would never happen, and that she was waiting in vain. Her public humiliation turned my thoughts to how the Church through the years continues to be mocked for believing that Christ is coming back for His Bride.
Seeing the thousands of people lining the streets waiting for Prince William and Kate to leave their residences for the cathedral, turned my thoughts to Revelation 19:7 that states, "Let us be glad and rejoice and give Him glory, for the marriage of the Lamb has come, and His wife has made herself ready."
The Coming
As viewers tuned in around the world to watch the wedding, I was reminded of verses in the Bible that talk of how all the tribes of the earth will see the Son of Man (the Bridegroom) coming on the clouds (Matthew 24:30) for His bride (the Church). As the world witnessed William coming to the cathedral for his bride Kate, so will the world witness Christ coming for His bride.
No Longer Common
I also thought of Kate's commoner background in relationship to being born a sinner. Because she was not born into royalty, she lacked the bloodline necessary to ever be Queen. No matter how hard she might work or try, she couldn't ever make her way to the throne on her own efforts. However, when she accepted the love of the future King and married him, she became the future Queen of England. Her right to rule and reign came solely based on who she married and his royal standing, just as Christ's love for the Church gives me a sinner, a royal heritage. Revelation 1:5 tells me that because Jesus loves me and has freed me from my sins by His blood, He has made all of us who love Him "kings and priests to our God; And we shall reign on the earth."
As well, thoughts of how once Kate married William, who he is and his identity changed who she is in the eyes of the people. Once they pronounced them man and wife, she was deemed worthy because of his love and becoming his bride. In Ephesians 5: 25-27, scripture talks of how Christ loving the Church wipes away the past, and she is presented as His bride without spot or wrinkle, and blameless to Himself.
Additionally, unlike past Royal weddings, this couple invited commoners to come including the couple's butcher, schoolmates, co-workers and more, reminding me of how God's invitation is to the world, without partiality. He has extended His wedding invitation to all who are willing to come.
Joel Rosenberg, author of eight New York Times best-selling novels and non-fiction books, wrote on his blog titled, "A Great Royal Wedding to Come" that:
The Scriptures teach us that we are all invited to the wedding of our Lord Jesus Christ in the world to come. But while all are invited, not all will attend. We must individually accept the Lord's invitation by personally receiving Jesus as Messiah and our Lord. Sadly, the Bible says that not all will do so.
William and Kate's wedding is a part of history, reminding me of the wedding to come. As it brought worldwide rejoicing, so will the coming marriage of Christ to the Church.
Watching the royal wedding surprised me, by bringing a renewed excitement and glimpse of a future wedding, one worth anticipating. And Revelation 22:17 sets the tone for this anticipation, stating that the Spirit and the bride beckon to Christ the Bridegroom saying, "Come."
Do you want to be inspired, motivated, and equipped to live the everyday story of your life well?
If so, you're in the right place. Whether you need encouragement in your relationships or in your faith, I hope you'll find the transparent voices of mentors and friends here at Ungrind.
So, grab a cup of coffee and keep reading. We're so glad you're here!
Ashleigh Slater, Founder & Managing Editor
"
Ungrind
speaks to women who yearn to look beyond the surface and get to the heart of life; whose purposes and loves are eternal. Their articles are practical, spiritual, and encouraging. In a world of shiny treasures that will corrode before we can blink,
Ungrind
helps us focus on the things that matter -- remembering that we are, first and foremost, women of God."
--
Rachel Starr Thomson
, author of
Heart to Heart: Meeting With God in the Lord's Prayer
"Real life is not always pleasant. Every marriage experiences disappointments, misunderstandings, sickness and financial crisis. Ashleigh doesn't camouflage the pain in her own marriage, and offers practical ideas on how to walk through the difficulties and find intimacy on the journey. If you are anything like me, I predict that as you read, you too will find yourself laughing, wiping tears, and saying 'Oh, yes.'"
-- Gary Chapman, #1 New York Times bestselling author of The 5 Love Languages
We are a member of the Amazon affiliate program and regularly use affiliate links. If you purchase an item from an Amazon link we provide, we will receive a small referral commission. This doesn't cost you anything additional. We only share books, music, and products that our writers personally have used and highly recommend.