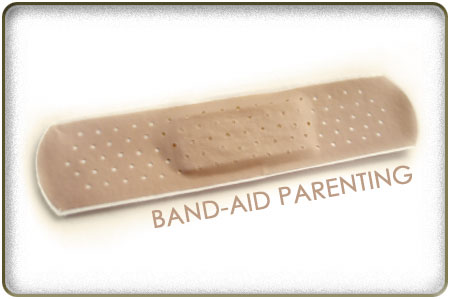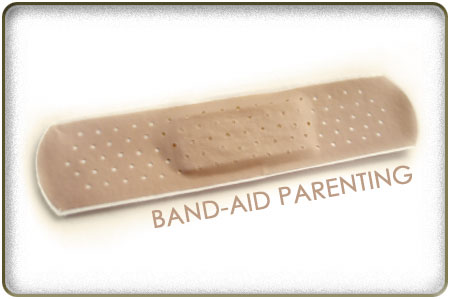 One evening as my husband Chris, my two-year-old son, and I sat down to dinner, my son quickly decided he no longer liked the chicken, corn, and mashed potatoes on his plate. Food items he loved last week.
Looking at me with that deviant look toddlers quickly master, he pushed his plate away. In his normally cute little voice, he demanded, "Snacks, Mommy. I want snacks."
I sighed at the choice I faced. Would I be firm and stick to the rule Chris and I had agreed upon? The rule that says if he doesn't try at least one bite of what I've made for dinner, he can't have anything—meaning snacks—until the next morning at breakfast. Or, would I give in? Giving in would be so much easier. It equaled a full tummy for my son and less worry for me.
Even though it was difficult, I decided to remain firm. No snacks.
Chris and I repeated the already known rule to our son. Gently, we tried to encourage him to taste at least one bite of his dinner. He refused and decided he was all done.
As I put plastic wrap over his plate and placed it in the fridge, I knew it was going to be a long night between his complaints and my mommy concerns. I wished there had been a way I could've fixed the situation and been able to send him to bed with a full tummy.
So often, I fall into fix-it mode as a mom. I find myself wanting to fix my young son's eating habits, crying, and emotional breakdowns. I've noticed that I'm not alone in wanting to "fix" things for my child. Even parents with years of experience under their belt seem to want to fix their children's homework, friends, and just about anything else that has "fixing" potential.
I was recently chatting with a mom whose children had left the nest. One child is struggling, unable to keep a job, pay bills, and has no goals for the future. Pained by this, she shared with me what she wished she'd done differently.
Looking back, this mom realizes that she and her husband fixed too much for their children while they were still at home. They never let their kids suffer the full consequences of their actions. Now as adults, their kids don't understand what it means to take full responsibility for poor choices because they didn't have to growing up. Mom and dad always made sure the consequences weren't that bad.
As I thought about this later, it occurred to me that many parents, such as myself, have verbal encouragement down. It's easy for us. We have no problem saying "Good job!" or "Way to go!" when our children accomplish a goal or overcome an obstacle. It's harder for us to say, "Try again," and then not intervene to ensure the results are happy for our kids. We want to use band-aid parenting and quickly fix any scraps and scratches.
Even though I've only been a parent for a couple years, I'm coming to see that I need to be more and more willing not to jump in and slap a band-aid on every problem that comes my son's way. I need to increasingly allow him to suffer the consequences for his poor choices. As a Christian parent, I need to think long-term.
Thinking long-term means I need to know what my goals are as a mom. When my son moves out years from now, what do I want him to take away from his time at home? The most important thing to me is that he be confident of who he is in Christ.
Most of us are familiar with Deuteronomy 6:5 where God calls us to love Him with all our heart, our soul, and our strength. But have you ever noticed what verse 7 says? In it we're told to "impress this" on our children. By impressing on my son the importance of loving the Lord with all that he is, I'm laying the groundwork for him to discover who he is in Christ. But, if I try to fix everything for him along the way, he'll never fully learn how to trust entirely on the Lord. He won't know what it means to love God even in the difficult times.
When God freed the Israelites from the Egyptians, He didn't just go "Poof!" and make everything better. No, it was hard for the Israelites. Their near-constant complaining betrays how hard it was. But God always provided for them in a loving—even parental—way. He fed them, He guided them with a pillar of light, and even parted the Red Sea.
When the Israelites turned their backs on God and worshiped a golden calf, God never turned His back on them. Yes, there were consequences for their actions and they suffered for it, but God walked them through it. He didn't fix the problem by just simply bailing them out. No, He allowed them to feel the pain, to suffer, and to experience the result of their choices for one end alone: that they would learn from their mistakes and grow in maturity. This is where character is formed.
The Lord wants me to encourage my son to love Him with all of his strength. This strength isn't built as a result of me fixing everything. I have to know when to stop fixing and let him go through the hard times. And in those difficult times, love him along the way. Even when it means no snacks for him and a night of mommy worry for me.
Sara Zoephel is the wife of a God-loving man and the mother of a two-year-old son who is slowly learning he's not in charge. Together they are seeking God and trying to display His glory to others.
When Doing Justly, Loving Mercy, and Walking Humbly Stand at Odds
If your compassion far exceeds your capacity, here's one way you can be sure to do justly, love mercy, and walk humbly.
One of my life verses is Micah 6:8, "He has told you, O man, what is good; and what does the Lord require of you but to do justice, and to love kindness, and to walk humbly with your God?"
It is one of my favorite verses because my heart has been so moved by the love Jesus has for me and the sacrifice He made for me that I am grateful to have a way to express my gratitude through acts of justice and mercy while walking humbly with God.
I have found at times, however, the call to do justice and love mercy come in conflict with the call to walk humbly with God. For me, one of the ways to walk humbly with God is to recognize my limitations. I have to put skin to the fact that I am not God which means saying, "no" to ministry requests. It means going to sleep when I could be spending time advocating for the harrowed and helpless in the world. It means limited seats at my table, limited funds in my bank account, and limited energy in my body cannot be ignored but respected and adhered to.
This is hard for me at times, especially when I scroll my Facebook feed and see friends who are caring for their really sick children, spouse, or other family member all while millions of refugees flee war torn countries and babies are slaughtered by the hundreds each day in our country through the abortion industry.
As I scroll, I receive texts about one family member's surgery gone wrong and another family member announcing a new baby is on the way. I have in mind my neighbor who has inpatient surgery scheduled this week and another neighbor who is trying to hold down a full-time job, care for twins all while battling profound "morning" sickness.
Folks at church are fighting for their lives in physical and spiritual ways, and strangers who pass me on the road are clearly battling something as demonstrated by their impatient honking because I won't take a right turn on red. I want to meet the needs of all; I want to do justice and love mercy, but I'm daily confronted by the fact that I am so limited.
What am I to do when doing justly and/or loving mercy seem to come in conflict with walking humbly with my God?
God keeps bringing me to this answer: prayer.
God invites us to cast our cares before Him because He cares for us.
God tells us to be anxious for nothing BUT WITH PRAYER present our requests before Him.
God commands us to pray without ceasing.
And, when I walk humbly with God, I see the immense kindness in His command.
He gives us a way to do justly, love mercy WHILE walking humbly with Him.
It is by praying without ceasing.
I cannot take a meal or give money to every sick person or family I know. I cannot extend kindness to all my neighbors all at the same time they're in need nor conjure up sustainable solutions for the refugee crisis and contact all the necessary world powers to make it happen.
I cannot heal all, but I know the Healer.
I cannot provide for all the needs, but I know the Provider.
I cannot rescue everyone in need, but I know the Rescuer.
I cannot comfort all the broken, but I know the Comforter.
I cannot speak peace over every situation, but I know the Prince of Peace.
I cannot be all to all, but I can go to the Great I Am through prayer, lay all the people, problems and pleas for help before the Omniscient and Omnipresent God of all Creation.
I can do this through prayer.
Recently, via an Instagram contest of all things, I came upon A–Z prayer cards designed by blogger/author/speaker, Amelia Rhodes. It is a simple concept packed with a powerful prayer punch. It has served me personally in this tension of wanting to do far more than I practically can do. It provides prayer prompts starting with each letter of the alphabet along with a scripture that coincides with the prayer focus. It ranges from Adoption to a creative "Zero Prejudice" for the letter "Z."
The cards are well thought out, color printed on sturdy cardstock with blank lines for the user to write in the names of people and/or organizations that are personal to them.
If, like me, your compassion far exceeds your capacity, pick up a set of these prayer cards and unload your burdens onto a God whose competence matches His kindness, both boundless.
Facing Our Fears in Motherhood
Do you have fears tied to motherhood? If so, here's encouragement for you.
"Are you scared?"
I was taken aback by his question. Scared? Of what?
"Of anything," he answered.
I had just shared my due date with a new class of trainees.
"He has three boys," another new hire volunteered. So fear is to be expected, I reasoned. I'm just about to face the most frightening experience in my life.
Of course I was scared.
I was scared…
I'll lose my temper.
I'll whine about sleepless nights.
I'll breastfeed too often or not often enough.
I'll leave piles of unfolded onesies in the middle of the nursery floor because I'm too tired (or lazy?) to fold teeny-tiny baby clothes for the upteenth time.
I'll go with disposable diapers when the better choice would be cloth.
I'll work too many long hours at the office and miss precious moments with her.
I'll sign her up for too many activities and push her to become Miss Achieve-It-All.
I'll pass on to her my ugly pride, self-righteousness, and perfectionism like a dreadful contagious disease.
I'll miss countless little joys in life while pursuing worthless dreams.
In short… I was afraid I was going to fail miserably as a parent.
And now, holding my second-born daughter in my arms, thinking back on that brief exchange just a few years ago, I realize those fears were well-founded. I've failed many times. I've lost my temper. I've raised my voice. I've worked too much and played too little. I've seen my own sinfulness reflected in my daughter.
Yes, I've failed, but over and above it all, God's grace has covered my parenting imperfections and made me run to the cross day after day. The writer of Proverbs puts it this way:
Whoever fears the LORD has a secure fortress, and for their children it will be a refuge.
Proverbs 14:26
When it comes to fears, we have two choices: Will we fear the unknown or will we fear the Lord? Will we allow the uncertain to grip us in its clutch or will we turn to God's Truth to set us free?
Scared? Oh yeah. There was so much to be scared of that day. And even now, if I'm completely honest, there are still fears nibbling at the edges of my consciousness. Fear that we won't outgrow the temper tantrums. Fear that the two girls won't get along. Fear that I'll mess them up and cause them interminable hours on a psychologist's couch.
I'm sure you have fears, too.
But rather than allow those fears to consume and paralyze us, we can take them to the Lord, acknowledging His sovereignty over our parenting, pleading His grace over our mistakes, and entrusting His provision over their futures. He is not only able to handle it all — He is far more capable to be trusted with it all.
If I say one thing to that frightened 9-month-pregnant me standing in that room years ago, I would say this: Don't let fear rob today's joy with tomorrow's unknowns. Each day has enough worries of its own (Matthew 6:34).
Instead, let us keep seeking God, running to Him as our secure fortress and resting in the knowledge that He will care for us and our children one day at a time.
What are you scared of today? Name your fears and bring them to the Lord, allowing Him to replace them with His peace that passes all understanding.
He Gives Shade To The Weary
If anxiety is a struggle for you right now, remember that He gives shade to the weary.
Do you ever have those moments of fear because you don't know what lies ahead? When do those thoughts tend to happen to you?
For me, most of those thoughts happen when I lay my head down to sleep at night. The vulnerability comes forth every time. That's what happened the other night to me. I shut my eyes and immediately anxiety welled up inside me.
What if we don't succeed in this new venture? What if we have to move? What if we can't pay our bills?
I laid there with the covers drawn tight over my head (I still think that I am safer if the covers are over my head), praying scripture over my anxious heart. Assuring myself that God sees me and that He cares.
In the morning, I turned to Isaiah 41, specifically verses 10-20.
"Do not fear, for I am with you; Do not anxiously look about you, for I am your God. I will strengthen you, surely I will help you, Surely I will uphold you with My righteous right hand." (Isaiah 41:10, NASB)
Yesterday, the "what if's" piled up as I anxiously looked about me. My daughter needs tutoring, however at this point in life, tutoring feels like a luxury we can't afford. So I listed some items online to sell hoping to make just enough to cover the tutoring. I'm buying groceries on a Visa reward card. I'm holding my breath until the next paycheck comes. But what did God speak over me: Do not fear. Do not look anxiously about you.
"For I am the Lord your God, who upholds your right hand, Who says to you, 'Do not fear, I will help you.' Do not fear, you worm Jacob, you men of Israel; I will help you," declares the Lord, "and your Redeemer is the Holy One of Israel." (Isaiah 41:13-14 NASB)
Why shouldn't I be anxious? Because God will hold me up. God will help me. When I first read the word "worm" as a description, I took it as a slam against Israel. Like, gesh, God. What animal does He relate me to? But through further study, He calls them a worm because worms are helpless. They are viewed as insignificant, despised and weak. God will help me — seemingly insignificant, helpless me — because He is my Redeemer. He is my go'el — my next of kin. The Redeemer is the one who provides for all my needs. Rent. Car payment. Credit card bill. Gas. Food. Clothes. Debt. God will redeem.
"Behold, I have made you a new, sharp threshing sledge with double edges; You will thresh the mountains and pulverize them, And will make the hills like chaff. You will winnow them, and the wind will carry them away, And the storm will scatter them; But you will rejoice in the Lord, You will glory in the Holy One of Israel." (Isaiah 41:15-16 NASB).
God is transforming me from a helpless one to a powerful one. The description of that type of threshing sledge is like a modern day earth mover. Powerful. Strong. Immovable.
"The afflicted and needy are seeking water, but there is none, And their tongue is parched with thirst; I, the Lord, will answer them Myself, As the God of Israel I will not forsake them." (Isaiah 41:17, NASB)
He will come to our rescue. God, Himself, will answer you and me. Can you hear how personal that sounds? Have you ever pleaded with someone important whether your boss, public figure, or even a parent, and they responded to the need themselves? You expected for them to send their assistant, but instead they — the most important one — responded to you.
"I will open rivers on the bare heights And springs in the midst of the valleys; I will make the wilderness a pool of water And the dry land fountains of water. I will put the cedar in the wilderness, The acacia and the myrtle and the olive tree; I will place the juniper in the desert Together with the box tree and the cypress." (Isaiah 41:18-19, NASB)
This passage describes the wilderness-like times in life. You are barren. You are thirsty. You are hot. You are in need. God will provide what you need. God will quench your thirst. He will provide shade when you are weary. During those times, God can provide in creative, innovative ways. He can provide something out of nothing. Doesn't that give you great hope? Even when you can't answer how He will do it, He is creative enough to figure it out even when the odds are stacked against you.
"That they may see and recognize, And consider and gain insight as well, That the hand of the Lord has done this, And the Holy One of Israel has created it." (Isaiah 41:20 NASB).
God will do all of this so that His glory will be put on display. People — including yourself — will see that He is powerful.
So you can see how after a night of wrestling with fear and anxiety, reading this was like shade and water for my soul. God is a god who sees. And God is a god who acts on your behalf.
What do you need His help with today? What are you fearful about today? What keeps you awake at night? Where do you need some shade?
Enter your email address below to stay in the loop on the latest from Ungrind.
Hi, I'm Ashleigh Slater, founder and editor of Ungrind. Here at Ungrind, it's our goal to churn out biblically-based encouragement for women. We strive to be honest and transparent about our struggles in a way that inspires hope, faith, and perseverance.
As you read, we hope you consider us friends, the kind you feel comfortable sitting across the table with at the local coffee shop. You can read more about me HERE and our team of writers HERE.
"I am all about sites who encourage women. There's too much going on in the daily grind that it's nice when someone recognizes. No matter if you're a single or married woman, in your 20's or 40's,
Ungrind
will encourage you where you're at. "
--
Renee Fisher
, author of
Forgiving Others, Forgiving Me
We are a member of the Amazon affiliate program and regularly use affiliate links. If you purchase an item from an Amazon link we provide, we will receive a small referral commission. This doesn't cost you anything additional. We only share books, music, and products that our writers personally have used and highly recommend.