Becoming a Glass Half-Full Kind of Girl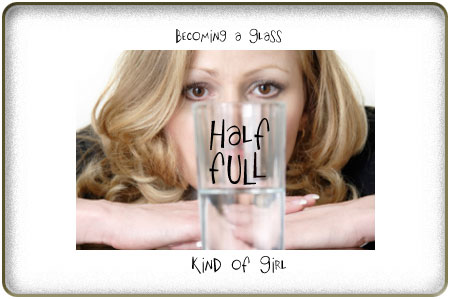 Two autumns ago, my son sprawled on the couch to watch college football with my husband. Nathan, then six, enjoyed the time with Andy more than the game itself. He excitedly asked question after question.
"Wow, they hit him hard, huh, Dad?" "Did the blue guys get the ball?" "Hey, Dad, which team do we want to win?"
Nathan's most frequent question by far was, "What's the score?" Every ten seconds he'd repeat, "Who's winning?" "How many points have they got now, Dad?" "Is our team ahead yet?"
Finally, I could stand it no longer. "Nathan," I scolded in exasperation, "you don't need to keep asking Daddy for the score. It's right there on the screen. Just watch the TV!"
Nathan squinted at the television, then innocently turned toward me. "I can't see those numbers. They're too … fuzzy."
Andy and I looked at each other knowingly. Within a week, Nathan sat in the eye doctor's chair, straining to decipher even the giant "E" on the top of the letter chart. And two weeks after that, our first grader got his first pair of bifocals.
Focus
Good vision, it goes without saying, is important. Healthy eyes let us experience the world — including college football — more fully. In the same way, our spiritual eyesight needs to be 20/20, if we are to live abundantly. Proper spiritual vision is crucial to a joy-filled life.
Real joy, we know, is not based on circumstances. And yet, our circumstances often cloud our vision. The dead-end job. The unfulfilled marriage. The less-than-perfect children. Illness, finances, even bad weather. Sometimes, we only see the negative, and our joy vanishes.
I know this from experience. You've heard of the person who always sees the glass as half-empty? My glass is three-quarters empty, and leaking, and off its coaster, and leaving a giant water ring on my wood table! I simply have a knack for seeing the bad in every situation. I see the dirty dishes in the sink rather than my precious family who piled them there. I see the empty checkbook instead of the God Who faithfully provides everything I need.
A few years ago, when the only cheery thing in life was my Prozac, I realized there must be more. After all, hadn't Jesus promised abundance? My life was characterized by anger, paralyzing fear, and discontentment — not the joyous life I read about in scripture. How had I lost my joy so completely?
Answer: focus. My focus — my spiritual eyesight — was impaired. I began to see that joy comes, not from the absence of problems, but from the presence of Jesus. Only when we focus on Him completely can we truly experience the joy He offers.
As I worked to restore my "vision," I noticed three examples of this in the New Testament: three different people who experienced joy once they focused on Jesus. Despite past, present, and future obstacles, they saw only Jesus, and lived in His joy.
Samaritan Woman
The Samaritan woman in John 4 is one of my favorite Bible characters. She was thirsty, not just for water from Jacob's well, but for a soul satisfaction. Her past sins and mistakes defined her; she couldn't see a new beginning or new identity.
And yet, when she encountered Jesus — when she met the Man who offered "a spring of living water welling up to eternal life" — she found joy. No longer did she avoid her community by going to the well in the heat of the day. Now, she ran back to town to share the good news.
"He told me everything I ever did," she said. But thanks to Jesus, she no longer carried the weight of her past. In the same way, Jesus has forgiven my past sins, too — every last, ugly one of them. What joy is mine when I choose to focus, not on the guilt of yesterday, but on the Savior who gives grace today!
Paul
The apostle Paul is known for his joy. His letter to the Philippians is filled with thanks, rejoicing, and contentment. Paul seems to be having one of those blissful days where the sun is shining, the birds are chirping, and the little children are laughing together. But actually, he wrote Philippians from jail — a Roman prison, under Nero's rule … and Nero wasn't exactly known for his kindness to Christ's followers.
How could Paul speak of joy in the midst of all that? He focused on Jesus. "I want to know Christ," he wrote, "and the power of his resurrection." By knowing Jesus — by seeing only Him — Paul had joy.
Obviously I've never found myself chained to Roman guards, facing persecution for my faith. Not even close. But I have had less than favorable circumstances entangling me. Post-partum depression, a miscarriage, conflicts with friends and family. It's easy to look at these "chains" and despair. But Paul reminds me to focus, not on my present circumstances, but on Jesus. Joy is found in Him.
John
In the Book of Revelation, John caught a glimpse of eternity, and saw the forever joy that will be ours. Crying and pain, death and fear remain only for a while. In the future, Jesus will make everything new.
Jesus tells us through John, "Behold, I am coming soon! My reward is with me." My heart skips a beat at the thought! Just imagine what that reward will be. Rich chocolate cake without calories, perhaps. And definitely no sit-ups, exercise balls, or diet soda. Oh, how I look forward to a world without lies and heartbreak and cancer. All this and more, John says, when we finally focus on Jesus forever. Everlasting joy will be ours in His everlasting presence.
Fixing Our Eyes
My bifocal-wearing son taught me that everyone needs a vision check-up from time to time. And I'm not just talking about optometry. I mean, spiritually. How is your spiritual vision? Where is your focus? Past sins, present circumstances, and future unknowns can all cloud our vision, but joy comes from focusing on Jesus in everything. Let's make Him the "giant E" at the top of our spiritual eye charts. As Hebrews instructs, "Let us fix our eyes on Jesus." Joy is found in Him.
Amy Storms lives in Santa Clarita, California, with her pastor-husband Andy, their kids Nathan, Anne, and Molly, and a terribly unmotivated basset hound named Belle. Along with guacamole and Dr. Pepper, words are some of Amy's very favorite things. She loves to read words, craft them on the page, and say them. Too many of them. Read more of Amy's words at
www.amystorms.com
.
Do you want to be inspired, motivated, and equipped to live the everyday story of your life well?
If so, you're in the right place. Whether you need encouragement in your relationships or in your faith, I hope you'll find the transparent voices of mentors and friends here at Ungrind.
So, grab a cup of coffee and keep reading. We're so glad you're here!
Ashleigh Slater, Founder & Managing Editor
"Real life is not always pleasant. Every marriage experiences disappointments, misunderstandings, sickness and financial crisis. Ashleigh doesn't camouflage the pain in her own marriage, and offers practical ideas on how to walk through the difficulties and find intimacy on the journey. If you are anything like me, I predict that as you read, you too will find yourself laughing, wiping tears, and saying 'Oh, yes.'"
-- Gary Chapman, #1 New York Times bestselling author of The 5 Love Languages
We are a member of the Amazon affiliate program and regularly use affiliate links. If you purchase an item from an Amazon link we provide, we will receive a small referral commission. This doesn't cost you anything additional. We only share books, music, and products that our writers personally have used and highly recommend.