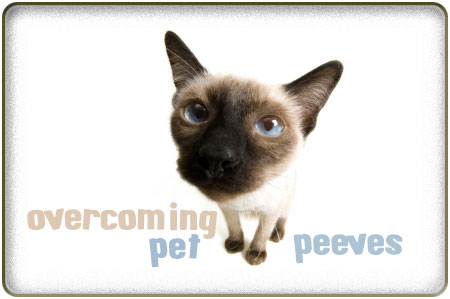 When we brought home a small Siamese kitten we named Panda, little did I know that God would show me truth about myself and Him through her. No one has been more surprised than me.
Crying at Closed Doors
As most cats, Panda doesn't like closed doors. In fact, she takes it rather personal. Whenever any of our family goes out to the garage, she sits at the door and "meows," begging for it to be opened to her.
I presume Panda wants in the garage because she imagines it to be a wonderful, mysterious place, somewhere she desires to explore. Of course, because of our greater understanding of the world beyond the garage door, we don't let her out. We know that gaining entrance into the garage could lead Panda to get covered in dirt, cobwebs, or stuck in or under a dangerous door opening. She could wander away from the security of our house and be vulnerable as a declawed cat. We say "no" because of our love and concern for her safety. Nevertheless, Panda doesn't like our answer and continues to cry at the door.
As I watch and listen to Panda, she reminds me of myself. Often, I've cried out to God asking Him to open a door to a promising opportunity which looks like a great prospect for me. Sometimes, even though I persist, God still doesn't open it and I am left wondering, Why not? Like Panda, perhaps I'm unknowingly asking God to open a door that would put me in an uncomfortable, vulnerable, or even destructive position or place, one that could cause more pain than I can imagine.
Observing Panda has given me some insight concerning closed doors. Instead of trying to force them open, I have come to realize that sometimes they should remain closed. After all, if it's in God's plan for my life, He's more than able to open it for me. Like Panda, I can't see what lies beyond the door, but God can. So, I'm learning to trust and find comfort in God's "no's" in life.
Floor Level
Although Panda is a beautiful cat, she's not very affectionate. My daughter Hayley describes her as, "…one of those collectible items you look at, but don't touch." She doesn't jump into our lap or snuggle with us at night. She's aloof most of the time and unapproachable. Still, we love her, even if from a distance.
Studying Panda's behavior, I noticed something interesting. If Hayley gets on the floor and crawls, Panda comes running, jumping up, nudging, and rubbing against her. This intrigued me. Does Panda just favor Hayley or would she relate to me too, if I tried this approach? I decided to try it.
To my delight and surprise, when Panda spotted me on all fours, she joyfully approached me. She began walking alongside me, rubbing the top of her head against me. After several days of my theory testing, Panda began waiting outside my bedroom door in the mornings for me to wake-up. If I didn't get down on the floor immediately, she would jump in front of whatever I was doing and try to get my attention, wooing me to the floor.
Her response to my voluntarily lowering myself to her height moved my heart. It turned my thoughts to my own relationship with God. Because God is so much higher, His ways are higher than mine (Isaiah 55:9). He can seem far away and difficult to relate to from my level. Because of the distance, it's easy to have a distorted view of God. However, when God voluntarily lowered Himself down to my altitude through Jesus Christ, I could see Him up close.
P-u-r-r-fect Submission
For Panda, moving to Hawaii with us required a 120-day confinement in the State Animal Quarantine Station, even with all her shots and homebound life. It took weeks of preparation, including a microchip embedded under her fur, for Panda to be prepared for her not-so-excellent adventure. Before boarding the plane for our move to Hawaii, we gave Panda a dramatic good-bye at the airport ticket counter. Upon arrival, she was immediately swept away to a holding facility and then transferred to the quarantine station.
As soon as we could, we visited Panda. It was obvious she was not only feeling traumatized but not too happy with us either. As we approached her flight kennel retreat, the only sounds coming from it were deep growling and hissing. A nearby caretaker told us how personnel had labeled her "one scary cat."
For the next 120 days Panda was very agitated. She hissed, lunged, and growled at us, actually looking pretty scary. Not knowing how a cat thinks, I had a hunch she might think she was being punished. Or, that we had abandoned her and now had the nerve to come and visit!
I couldn't blame Panda for her reaction. There just wasn't a way to make her understand that the whole reason for her situation was because we loved her. But in her "cat reasoning" maybe she was confused at the possibility that someone who says they love her would place her in such a distressful situation. Still, the truth remained, if we wanted Panda to be with us, she had to go through this uncomfortable process. There just wasn't any other legal way.
During Panda's stay God once again revealed truth. Had He ever allowed me to be placed in an uncomfortable and undesirable situation, letting me feel like He has disowned me? Have I ever angrily questioned how this could possibly fit into God's plan for my life? Did I ever kick and scream through it, thinking it was the enemy trying to ruin my life, when the truth was God allowed it in my life because it would benefit me and bring me closer to Him? Have I ever doubted God's love for me, feeling that my state of affairs signified His punishment?
Like Panda, I have been afraid, angry, and felt abandoned and rejected. Through observing Panda's reactions and knowing my good intent toward her, I began to understand how God cares for me. Despite how I feel, God is near, close by, waiting patiently until the required process is complete. Panda's unfortunate incarceration by the State of Hawaii helped me to understand that when I go through distressful places and circumstances, God counts the days until I can be released from my predicament. As unpleasant as it is, it's somehow necessary to bring me to where God wants me to be. As I experience pain, God hopes that I will trust Him, even when I don't understand. Like Panda resisted our consolation, I too, have pushed the offer of God's comfort away.
The Pursuit
While Panda was in confinement, we brought a kitten home to help us through our relocation adjustment. We named him Samson and soon discovered that this silver shaded Persian—unlike Panda—doesn't have an aggressive bone in his body.
We didn't know how Panda would react to her new companion. We had a feeling she liked being the only kitty in the house. Our guess was correct. Once at home, we slowly introduced them to each other, but Panda didn't warm up to him. On the other hand, Samson seemed enamored with her from the moment he first laid eyes on her. At times, we would find Samson sitting across the room from Panda, just staring at her. With every cute move he could perform, Samson tried to win her affection. No matter what he did, she hissed and threatened him.
Still Panda's hostility seemed to have absolutely no effect on him. No matter how she reacted to him, Samson kept following her, trying to sit by her, and gazing at her from afar. Watching the two of them turned my thoughts to God. Panda again was like me (a humbling thought). She tried to avoid him by running away, or by giving him the message that she didn't need him. Her responses were meant to push him away, to refuse his companionship.
Samson on the other hand, exhibited an unconditional, relentless love. He was always pursuing, never giving up, and forgiving over and over again. Seemingly, Samson didn't keep account of her quite visible rejections and imperfections, but rather, lovingly focused on her. It made me think of the kind of love that God has towards me. How many times have I tried to discourage God? Yet, He never gives up!
Often, I forget what extraordinary lengths God will go to just to reveal His truth. As author Parker Palmer states in his book, The Company of Strangers, "… truth is a very large matter, and requires various angles of vision to be seen." This includes using a house cat, when necessary.
Lynette is the associate editor of
Ungrind.
She's married and the mother of four daughters and has lived in Alaska, California, Colorado, Florida, Hawaii, Texas, and a few other places in-between. Lynette has a weakness for anything made out of denim, shoes in a variety of styles and colors, and clearance sales. Her writing has been published in numerous publications including
Focus on the Family Magazine, Spiritled Woman, Decision, Today's Christian Woman, Woman's Day, Family Circle, Reader's Digest, Brio, CCM, FamilyFun, Small Group Trader
, and more! She's also featured in the books: Disney's 
FamilyFun: My Great Idea
,
Parent's Magazine: The Best Advice I Ever Got
,
Small Minds With Big Hearts: God's World From a Child's Point of View
, and
The New Woman's Day Cookbook: Simple Recipes for Every Occasion
. Lynette has a M.A. in Communication from Regent University and has written for Dr. Robert Schuller, Dr. D. James Kennedy, and Joyce Meyer. She also produced Dr. Kennedy's daily radio broadcast the
Kennedy Commentary.
When Doing Justly, Loving Mercy, and Walking Humbly Stand at Odds
If your compassion far exceeds your capacity, here's one way you can be sure to do justly, love mercy, and walk humbly.
One of my life verses is Micah 6:8, "He has told you, O man, what is good; and what does the Lord require of you but to do justice, and to love kindness, and to walk humbly with your God?"
It is one of my favorite verses because my heart has been so moved by the love Jesus has for me and the sacrifice He made for me that I am grateful to have a way to express my gratitude through acts of justice and mercy while walking humbly with God.
I have found at times, however, the call to do justice and love mercy come in conflict with the call to walk humbly with God. For me, one of the ways to walk humbly with God is to recognize my limitations. I have to put skin to the fact that I am not God which means saying, "no" to ministry requests. It means going to sleep when I could be spending time advocating for the harrowed and helpless in the world. It means limited seats at my table, limited funds in my bank account, and limited energy in my body cannot be ignored but respected and adhered to.
This is hard for me at times, especially when I scroll my Facebook feed and see friends who are caring for their really sick children, spouse, or other family member all while millions of refugees flee war torn countries and babies are slaughtered by the hundreds each day in our country through the abortion industry.
As I scroll, I receive texts about one family member's surgery gone wrong and another family member announcing a new baby is on the way. I have in mind my neighbor who has inpatient surgery scheduled this week and another neighbor who is trying to hold down a full-time job, care for twins all while battling profound "morning" sickness.
Folks at church are fighting for their lives in physical and spiritual ways, and strangers who pass me on the road are clearly battling something as demonstrated by their impatient honking because I won't take a right turn on red. I want to meet the needs of all; I want to do justice and love mercy, but I'm daily confronted by the fact that I am so limited.
What am I to do when doing justly and/or loving mercy seem to come in conflict with walking humbly with my God?
God keeps bringing me to this answer: prayer.
God invites us to cast our cares before Him because He cares for us.
God tells us to be anxious for nothing BUT WITH PRAYER present our requests before Him.
God commands us to pray without ceasing.
And, when I walk humbly with God, I see the immense kindness in His command.
He gives us a way to do justly, love mercy WHILE walking humbly with Him.
It is by praying without ceasing.
I cannot take a meal or give money to every sick person or family I know. I cannot extend kindness to all my neighbors all at the same time they're in need nor conjure up sustainable solutions for the refugee crisis and contact all the necessary world powers to make it happen.
I cannot heal all, but I know the Healer.
I cannot provide for all the needs, but I know the Provider.
I cannot rescue everyone in need, but I know the Rescuer.
I cannot comfort all the broken, but I know the Comforter.
I cannot speak peace over every situation, but I know the Prince of Peace.
I cannot be all to all, but I can go to the Great I Am through prayer, lay all the people, problems and pleas for help before the Omniscient and Omnipresent God of all Creation.
I can do this through prayer.
Recently, via an Instagram contest of all things, I came upon A–Z prayer cards designed by blogger/author/speaker, Amelia Rhodes. It is a simple concept packed with a powerful prayer punch. It has served me personally in this tension of wanting to do far more than I practically can do. It provides prayer prompts starting with each letter of the alphabet along with a scripture that coincides with the prayer focus. It ranges from Adoption to a creative "Zero Prejudice" for the letter "Z."
The cards are well thought out, color printed on sturdy cardstock with blank lines for the user to write in the names of people and/or organizations that are personal to them.
If, like me, your compassion far exceeds your capacity, pick up a set of these prayer cards and unload your burdens onto a God whose competence matches His kindness, both boundless.
Facing Our Fears in Motherhood
Do you have fears tied to motherhood? If so, here's encouragement for you.
"Are you scared?"
I was taken aback by his question. Scared? Of what?
"Of anything," he answered.
I had just shared my due date with a new class of trainees.
"He has three boys," another new hire volunteered. So fear is to be expected, I reasoned. I'm just about to face the most frightening experience in my life.
Of course I was scared.
I was scared…
I'll lose my temper.
I'll whine about sleepless nights.
I'll breastfeed too often or not often enough.
I'll leave piles of unfolded onesies in the middle of the nursery floor because I'm too tired (or lazy?) to fold teeny-tiny baby clothes for the upteenth time.
I'll go with disposable diapers when the better choice would be cloth.
I'll work too many long hours at the office and miss precious moments with her.
I'll sign her up for too many activities and push her to become Miss Achieve-It-All.
I'll pass on to her my ugly pride, self-righteousness, and perfectionism like a dreadful contagious disease.
I'll miss countless little joys in life while pursuing worthless dreams.
In short… I was afraid I was going to fail miserably as a parent.
And now, holding my second-born daughter in my arms, thinking back on that brief exchange just a few years ago, I realize those fears were well-founded. I've failed many times. I've lost my temper. I've raised my voice. I've worked too much and played too little. I've seen my own sinfulness reflected in my daughter.
Yes, I've failed, but over and above it all, God's grace has covered my parenting imperfections and made me run to the cross day after day. The writer of Proverbs puts it this way:
Whoever fears the LORD has a secure fortress, and for their children it will be a refuge.
Proverbs 14:26
When it comes to fears, we have two choices: Will we fear the unknown or will we fear the Lord? Will we allow the uncertain to grip us in its clutch or will we turn to God's Truth to set us free?
Scared? Oh yeah. There was so much to be scared of that day. And even now, if I'm completely honest, there are still fears nibbling at the edges of my consciousness. Fear that we won't outgrow the temper tantrums. Fear that the two girls won't get along. Fear that I'll mess them up and cause them interminable hours on a psychologist's couch.
I'm sure you have fears, too.
But rather than allow those fears to consume and paralyze us, we can take them to the Lord, acknowledging His sovereignty over our parenting, pleading His grace over our mistakes, and entrusting His provision over their futures. He is not only able to handle it all — He is far more capable to be trusted with it all.
If I say one thing to that frightened 9-month-pregnant me standing in that room years ago, I would say this: Don't let fear rob today's joy with tomorrow's unknowns. Each day has enough worries of its own (Matthew 6:34).
Instead, let us keep seeking God, running to Him as our secure fortress and resting in the knowledge that He will care for us and our children one day at a time.
What are you scared of today? Name your fears and bring them to the Lord, allowing Him to replace them with His peace that passes all understanding.
He Gives Shade To The Weary
If anxiety is a struggle for you right now, remember that He gives shade to the weary.
Do you ever have those moments of fear because you don't know what lies ahead? When do those thoughts tend to happen to you?
For me, most of those thoughts happen when I lay my head down to sleep at night. The vulnerability comes forth every time. That's what happened the other night to me. I shut my eyes and immediately anxiety welled up inside me.
What if we don't succeed in this new venture? What if we have to move? What if we can't pay our bills?
I laid there with the covers drawn tight over my head (I still think that I am safer if the covers are over my head), praying scripture over my anxious heart. Assuring myself that God sees me and that He cares.
In the morning, I turned to Isaiah 41, specifically verses 10-20.
"Do not fear, for I am with you; Do not anxiously look about you, for I am your God. I will strengthen you, surely I will help you, Surely I will uphold you with My righteous right hand." (Isaiah 41:10, NASB)
Yesterday, the "what if's" piled up as I anxiously looked about me. My daughter needs tutoring, however at this point in life, tutoring feels like a luxury we can't afford. So I listed some items online to sell hoping to make just enough to cover the tutoring. I'm buying groceries on a Visa reward card. I'm holding my breath until the next paycheck comes. But what did God speak over me: Do not fear. Do not look anxiously about you.
"For I am the Lord your God, who upholds your right hand, Who says to you, 'Do not fear, I will help you.' Do not fear, you worm Jacob, you men of Israel; I will help you," declares the Lord, "and your Redeemer is the Holy One of Israel." (Isaiah 41:13-14 NASB)
Why shouldn't I be anxious? Because God will hold me up. God will help me. When I first read the word "worm" as a description, I took it as a slam against Israel. Like, gesh, God. What animal does He relate me to? But through further study, He calls them a worm because worms are helpless. They are viewed as insignificant, despised and weak. God will help me — seemingly insignificant, helpless me — because He is my Redeemer. He is my go'el — my next of kin. The Redeemer is the one who provides for all my needs. Rent. Car payment. Credit card bill. Gas. Food. Clothes. Debt. God will redeem.
"Behold, I have made you a new, sharp threshing sledge with double edges; You will thresh the mountains and pulverize them, And will make the hills like chaff. You will winnow them, and the wind will carry them away, And the storm will scatter them; But you will rejoice in the Lord, You will glory in the Holy One of Israel." (Isaiah 41:15-16 NASB).
God is transforming me from a helpless one to a powerful one. The description of that type of threshing sledge is like a modern day earth mover. Powerful. Strong. Immovable.
"The afflicted and needy are seeking water, but there is none, And their tongue is parched with thirst; I, the Lord, will answer them Myself, As the God of Israel I will not forsake them." (Isaiah 41:17, NASB)
He will come to our rescue. God, Himself, will answer you and me. Can you hear how personal that sounds? Have you ever pleaded with someone important whether your boss, public figure, or even a parent, and they responded to the need themselves? You expected for them to send their assistant, but instead they — the most important one — responded to you.
"I will open rivers on the bare heights And springs in the midst of the valleys; I will make the wilderness a pool of water And the dry land fountains of water. I will put the cedar in the wilderness, The acacia and the myrtle and the olive tree; I will place the juniper in the desert Together with the box tree and the cypress." (Isaiah 41:18-19, NASB)
This passage describes the wilderness-like times in life. You are barren. You are thirsty. You are hot. You are in need. God will provide what you need. God will quench your thirst. He will provide shade when you are weary. During those times, God can provide in creative, innovative ways. He can provide something out of nothing. Doesn't that give you great hope? Even when you can't answer how He will do it, He is creative enough to figure it out even when the odds are stacked against you.
"That they may see and recognize, And consider and gain insight as well, That the hand of the Lord has done this, And the Holy One of Israel has created it." (Isaiah 41:20 NASB).
God will do all of this so that His glory will be put on display. People — including yourself — will see that He is powerful.
So you can see how after a night of wrestling with fear and anxiety, reading this was like shade and water for my soul. God is a god who sees. And God is a god who acts on your behalf.
What do you need His help with today? What are you fearful about today? What keeps you awake at night? Where do you need some shade?
Enter your email address below to stay in the loop on the latest from Ungrind.
Hi, I'm Ashleigh Slater, founder and editor of Ungrind. Here at Ungrind, it's our goal to churn out biblically-based encouragement for women. We strive to be honest and transparent about our struggles in a way that inspires hope, faith, and perseverance.
As you read, we hope you consider us friends, the kind you feel comfortable sitting across the table with at the local coffee shop. You can read more about me HERE and our team of writers HERE.
We are a member of the Amazon affiliate program and regularly use affiliate links. If you purchase an item from an Amazon link we provide, we will receive a small referral commission. This doesn't cost you anything additional. We only share books, music, and products that our writers personally have used and highly recommend.