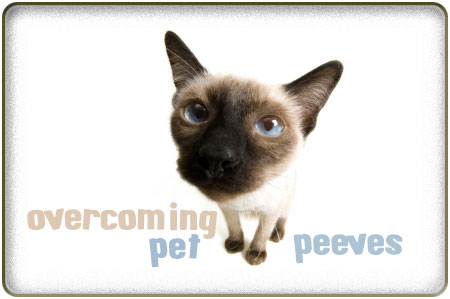 When we brought home a small Siamese kitten we named Panda, little did I know that God would show me truth about myself and Him through her. No one has been more surprised than me.
Crying at Closed Doors
As most cats, Panda doesn't like closed doors. In fact, she takes it rather personal. Whenever any of our family goes out to the garage, she sits at the door and "meows," begging for it to be opened to her.
I presume Panda wants in the garage because she imagines it to be a wonderful, mysterious place, somewhere she desires to explore. Of course, because of our greater understanding of the world beyond the garage door, we don't let her out. We know that gaining entrance into the garage could lead Panda to get covered in dirt, cobwebs, or stuck in or under a dangerous door opening. She could wander away from the security of our house and be vulnerable as a declawed cat. We say "no" because of our love and concern for her safety. Nevertheless, Panda doesn't like our answer and continues to cry at the door.
As I watch and listen to Panda, she reminds me of myself. Often, I've cried out to God asking Him to open a door to a promising opportunity which looks like a great prospect for me. Sometimes, even though I persist, God still doesn't open it and I am left wondering, Why not? Like Panda, perhaps I'm unknowingly asking God to open a door that would put me in an uncomfortable, vulnerable, or even destructive position or place, one that could cause more pain than I can imagine.
Observing Panda has given me some insight concerning closed doors. Instead of trying to force them open, I have come to realize that sometimes they should remain closed. After all, if it's in God's plan for my life, He's more than able to open it for me. Like Panda, I can't see what lies beyond the door, but God can. So, I'm learning to trust and find comfort in God's "no's" in life.
Floor Level
Although Panda is a beautiful cat, she's not very affectionate. My daughter Hayley describes her as, "…one of those collectible items you look at, but don't touch." She doesn't jump into our lap or snuggle with us at night. She's aloof most of the time and unapproachable. Still, we love her, even if from a distance.
Studying Panda's behavior, I noticed something interesting. If Hayley gets on the floor and crawls, Panda comes running, jumping up, nudging, and rubbing against her. This intrigued me. Does Panda just favor Hayley or would she relate to me too, if I tried this approach? I decided to try it.
To my delight and surprise, when Panda spotted me on all fours, she joyfully approached me. She began walking alongside me, rubbing the top of her head against me. After several days of my theory testing, Panda began waiting outside my bedroom door in the mornings for me to wake-up. If I didn't get down on the floor immediately, she would jump in front of whatever I was doing and try to get my attention, wooing me to the floor.
Her response to my voluntarily lowering myself to her height moved my heart. It turned my thoughts to my own relationship with God. Because God is so much higher, His ways are higher than mine (Isaiah 55:9). He can seem far away and difficult to relate to from my level. Because of the distance, it's easy to have a distorted view of God. However, when God voluntarily lowered Himself down to my altitude through Jesus Christ, I could see Him up close.
P-u-r-r-fect Submission
For Panda, moving to Hawaii with us required a 120-day confinement in the State Animal Quarantine Station, even with all her shots and homebound life. It took weeks of preparation, including a microchip embedded under her fur, for Panda to be prepared for her not-so-excellent adventure. Before boarding the plane for our move to Hawaii, we gave Panda a dramatic good-bye at the airport ticket counter. Upon arrival, she was immediately swept away to a holding facility and then transferred to the quarantine station.
As soon as we could, we visited Panda. It was obvious she was not only feeling traumatized but not too happy with us either. As we approached her flight kennel retreat, the only sounds coming from it were deep growling and hissing. A nearby caretaker told us how personnel had labeled her "one scary cat."
For the next 120 days Panda was very agitated. She hissed, lunged, and growled at us, actually looking pretty scary. Not knowing how a cat thinks, I had a hunch she might think she was being punished. Or, that we had abandoned her and now had the nerve to come and visit!
I couldn't blame Panda for her reaction. There just wasn't a way to make her understand that the whole reason for her situation was because we loved her. But in her "cat reasoning" maybe she was confused at the possibility that someone who says they love her would place her in such a distressful situation. Still, the truth remained, if we wanted Panda to be with us, she had to go through this uncomfortable process. There just wasn't any other legal way.
During Panda's stay God once again revealed truth. Had He ever allowed me to be placed in an uncomfortable and undesirable situation, letting me feel like He has disowned me? Have I ever angrily questioned how this could possibly fit into God's plan for my life? Did I ever kick and scream through it, thinking it was the enemy trying to ruin my life, when the truth was God allowed it in my life because it would benefit me and bring me closer to Him? Have I ever doubted God's love for me, feeling that my state of affairs signified His punishment?
Like Panda, I have been afraid, angry, and felt abandoned and rejected. Through observing Panda's reactions and knowing my good intent toward her, I began to understand how God cares for me. Despite how I feel, God is near, close by, waiting patiently until the required process is complete. Panda's unfortunate incarceration by the State of Hawaii helped me to understand that when I go through distressful places and circumstances, God counts the days until I can be released from my predicament. As unpleasant as it is, it's somehow necessary to bring me to where God wants me to be. As I experience pain, God hopes that I will trust Him, even when I don't understand. Like Panda resisted our consolation, I too, have pushed the offer of God's comfort away.
The Pursuit
While Panda was in confinement, we brought a kitten home to help us through our relocation adjustment. We named him Samson and soon discovered that this silver shaded Persian—unlike Panda—doesn't have an aggressive bone in his body.
We didn't know how Panda would react to her new companion. We had a feeling she liked being the only kitty in the house. Our guess was correct. Once at home, we slowly introduced them to each other, but Panda didn't warm up to him. On the other hand, Samson seemed enamored with her from the moment he first laid eyes on her. At times, we would find Samson sitting across the room from Panda, just staring at her. With every cute move he could perform, Samson tried to win her affection. No matter what he did, she hissed and threatened him.
Still Panda's hostility seemed to have absolutely no effect on him. No matter how she reacted to him, Samson kept following her, trying to sit by her, and gazing at her from afar. Watching the two of them turned my thoughts to God. Panda again was like me (a humbling thought). She tried to avoid him by running away, or by giving him the message that she didn't need him. Her responses were meant to push him away, to refuse his companionship.
Samson on the other hand, exhibited an unconditional, relentless love. He was always pursuing, never giving up, and forgiving over and over again. Seemingly, Samson didn't keep account of her quite visible rejections and imperfections, but rather, lovingly focused on her. It made me think of the kind of love that God has towards me. How many times have I tried to discourage God? Yet, He never gives up!
Often, I forget what extraordinary lengths God will go to just to reveal His truth. As author Parker Palmer states in his book, The Company of Strangers, "… truth is a very large matter, and requires various angles of vision to be seen." This includes using a house cat, when necessary.
Lynette is the associate editor of
Ungrind.
She's married and the mother of four daughters and has lived in Alaska, California, Colorado, Florida, Hawaii, Texas, and a few other places in-between. Lynette has a weakness for anything made out of denim, shoes in a variety of styles and colors, and clearance sales. Her writing has been published in numerous publications including
Focus on the Family Magazine, Spiritled Woman, Decision, Today's Christian Woman, Woman's Day, Family Circle, Reader's Digest, Brio, CCM, FamilyFun, Small Group Trader
, and more! She's also featured in the books: Disney's 
FamilyFun: My Great Idea
,
Parent's Magazine: The Best Advice I Ever Got
,
Small Minds With Big Hearts: God's World From a Child's Point of View
, and
The New Woman's Day Cookbook: Simple Recipes for Every Occasion
. Lynette has a M.A. in Communication from Regent University and has written for Dr. Robert Schuller, Dr. D. James Kennedy, and Joyce Meyer. She also produced Dr. Kennedy's daily radio broadcast the
Kennedy Commentary.
Do you want to be inspired, motivated, and equipped to live the everyday story of your life well?
If so, you're in the right place. Whether you need encouragement in your relationships or in your faith, I hope you'll find the transparent voices of mentors and friends here at Ungrind.
So, grab a cup of coffee and keep reading. We're so glad you're here!
Ashleigh Slater, Founder & Managing Editor
"Real life is not always pleasant. Every marriage experiences disappointments, misunderstandings, sickness and financial crisis. Ashleigh doesn't camouflage the pain in her own marriage, and offers practical ideas on how to walk through the difficulties and find intimacy on the journey. If you are anything like me, I predict that as you read, you too will find yourself laughing, wiping tears, and saying 'Oh, yes.'"
-- Gary Chapman, #1 New York Times bestselling author of The 5 Love Languages
We are a member of the Amazon affiliate program and regularly use affiliate links. If you purchase an item from an Amazon link we provide, we will receive a small referral commission. This doesn't cost you anything additional. We only share books, music, and products that our writers personally have used and highly recommend.